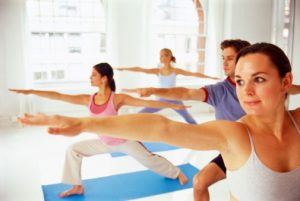 Join us for a yoga at KTH-Hallen every second Wednesday (until summer) from 14:00 to 15:00 .
Next session will be on April 12.
There are plenty of health benefits with practicing yoga, both for your body and mind! In addition you get to hang out with your PhD chapter friends from your or different institutions, a great way to get new inspiration!
The session will be held by a professional instructor (in English, of course) and you can use the lockers and shower facilities in connection with the session (bring a towel if you want to shower). There will be yoga mats you can borrow during the session. Dress comfortably (like for a work-out). It will be a perfect break during your day and you can start the afternoon with lots of new energy!
When: Wednesday,April 12 14.00-15.00
Where: KTH-Hallen, Brinellvägen 38
Cost: FREE if you are a member of THS/PhD Chapter , 20kr in cash otherwise
You can become a member here. In case don't find anybody, ask at the counter, we'll meet up there.
The number of places is limited, register HERE to be guaranteed a spot. You can also try your luck and just show up, if there are places available they will be filled on a first come/first serve basis.
Also, if you think yoga is a great idea but cannot attend this time, please let us know! (you can use the same form)
Hope we'll see you at yoga! Namaste!